July 14 |7 PM The 2nd Saturday
Admission $6.00
Free to Students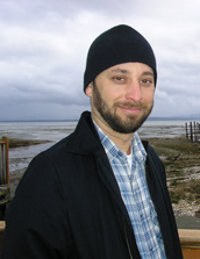 Sid Miller's poetry has appeared widely. He is the author of two chapbook and two full length collections, Nixon on the Piano (David Robert Books, 2009) and Dot-to-Dot, Oregon (Ooligan Press, 2009).
After finishing the graduate program from Portland State University, he went on to found the Portland based literary journal, Burnside Review, in 2004 and remains the editor. He lives in his 105 year old house in Southeast Portland.
... explores seven routes from the coast to the mountains...

Dot-to-Dot, Oregon, a collection of fifty poems, travels through the cities, towns, and monuments of Oregon.

...sometimes droll, sometimes heartbreaking, and ...always profound.

Miller's gift is to see the world in new and strange ways...