October 19 |7 PM
Admission $6.00
Free to Students
Toni Hanner's poems appear in Yellow Medicine Review, MARGIE, Alehouse, Calyx, Gargoyle, and others. She is a member of Red Sofa Poets in Eugene and Port Townsend's Madrona Writers. Moonmusic, poems by Hanner and collaborator Connie Beitler, was published by Wellstone Press in 2000. She had two books published in 2012 — The Ravelling Braid from Tebot Bach, and a chapbook of surrealist poems, Gertrude poems and other objects, from Traprock Books. Gertrude was chosen by Mary Jo Bang to be a finalist for the 2013 Oregon Book Award for poetry.
Hanner teaches workshops on publishing poetry as well as generative poetry workshops. She leads a weekly writing practice group, which gives her the start to many of her poems. In her writing she depends heavily on word lists and other tricks to move her imagination away from logic and linearity. She enjoys playing with poetic forms, particularly those that rely on repetition. She often is inspired by surrealist art and ideas.
Hanner's father was a career military man, so when people ask her where she is from, she is, to this day, stumped. Sometimes she says Denver (where she was born) and sometimes Oklahoma (where the heart of her family lived) and sometimes, "the Air Force." Her father's origins were an enigma, which adds to her feeling of rootlessness. She loves dancing tango and she and her husband, poet Michael Hanner, travel to Europe whenever they can. She has been studying French for years with little tangible result.
Allan Peterson's fourth book, Fragile Acts, is the second title in the new McSweeney's Poetry Series, a finalist for both the 2013 National Book Critics Circle Award and the Oregon Book Award. His last book is As Much As from Salmon Press, 2011. Other books are All the Lavish in Common (2005 Juniper Prize), Anonymous Or (Defined Providence Prize 2001) and five chapbooks, notably Omnivore, winner of the 2009 Boom Prize from Bateau Press. His next book, Precarious, is forthcoming from 42 Miles Press in 2014.
Selected by Ted Kooser for his American Life in Poetry Series (#159), his work has been published widely in print and online and has r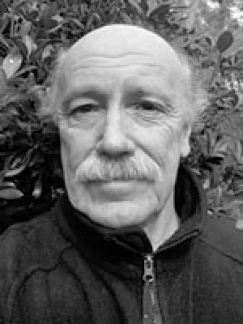 eceived fellowships from the National Endowment for the Arts and The State of Florida. In 2010 he was a poetry panelist at The Conference on World Affairs, Univ. of Colorado, Boulder, and was invited to read at the The Cuisle International Poetry Festival in Ireland.
A visual artist as well as a poet, Allan has taught at the State University of New York and Pensacola State College where he was chair of th

He divides his time between Ashland, Oregon and Gulf Breeze, Florida. Additional information at his website: www.allanpeterson.net e art department and director of the Switzer Center for Visual Arts until retiring in 2005.